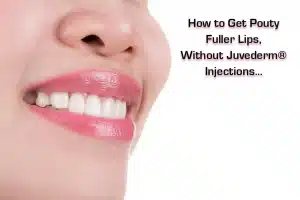 How to Get Pouty Fuller Lips, Without Juvederm® Injections…
How can you get your lips fuller without getting dermal fillers like Restylane® & Juvederm®? Hmmmm…..?
There's a little secret some of us know in the aesthetic world on how we can plump lips up and evert them so they appear larger & fuller without going through the expense and sometimes discomfort of getting multiple injections or Restylane® or Juvederm® in the lips.
Although I use super high strength topical numbing cream which takes the injection pain away for most people, in some there can still be discomfort in those who are super anxious and/or sensitive to any sort of pain…
There is the other group of people who would love fuller, softer lips but cannot afford the cost of Restylane.
So, what can you do?
An easy fix for this is a little touch of Dysport® in the perfect spots above and below the lip. This will evert, or turn the lips outward, increasing the visible pink area. Next, apply my most recommended Plumping Lip Balm which attracts and holds in moisture (hydrophilic) to the area so lips appear fuller and softer as if you had a syringe of Restylane or Juvederm, minus the expense.
FYI: When a product is listed in our Las Vegas Aeshtetics blog, you are able to purchase that product at the WHOLESALE price (approx 30% below retail). Please avoid purchasing from ebay & amazon due to the high number of counterfeit claims being called into NuSkin, as they will NOT stand by any products purchased outside of their wesbite.
Here is a before and after picture with Dysport and Plumping Lip Balm.